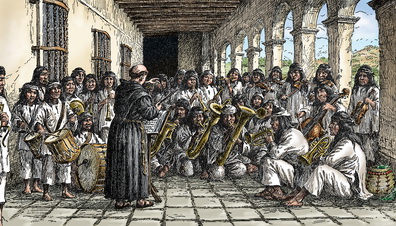 Fr. Narciso Duran and his Indian Band
Alexander Harmer


California Missions Resource Center ...
Accession Number: 16_DH
Original work: after a drawing by Alexander Harmer, colorized
Original size:

Standard Reproduction Size: 18.25 x 32

Fr. Duran, a talented musician, organized and trained a band at Mission San Jose, where he was the senior missionary. When he was elected Father-President of the Missions, he relocated to Mission Santa Barbara, where he developed another band. Copyright 2014 Pentacle Press, LLC.